Weather Timeline: best overall
Available for under $1 in the Play Store, Weather Timeline could be the best dollar you ever spend. It compiles a load of genuinely useful and interesting features into a wonderful interface and library of widgets.
The app gets its name from its primary function, which is a card-based timeline of the weather, but there's a lot more on offer. You can choose what weather service to use, from five options, and there are notifications that warn you of impending weather changes. Then there's the moon viewer, so you always know the werewolf forecast, and several radar maps, letting you see visualizations of the cloud and rain to come. On top of all that, there are also several interactive graphs showing data on things like temperature, precipitation and pressure.
The depth of data below and an elegant and simple interface make this app our top choice.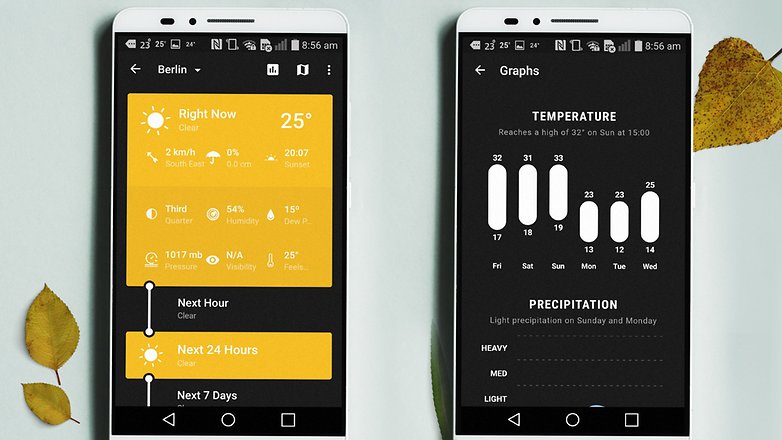 YoWindow Free Weather: best looking
"Watch weather with pleasure," says YoWindow when you first load it and it truthfully lives up to this promise: this is a great looking Android weather app. Instead of using simple icons to represent clouds, sunshine and rain, YoWindow displays a cartoon landscape which reflects the real-time weather in your current location.
The light level and conditions are accurately represented in the app and you can scroll through the hours as if scrolling through an online video to see changes over time. It's a unique and well-realized weather app, which not only looks good, but is also incredibly easy to use. Available for free with ads or paid and without ads, check it out in the Play Store.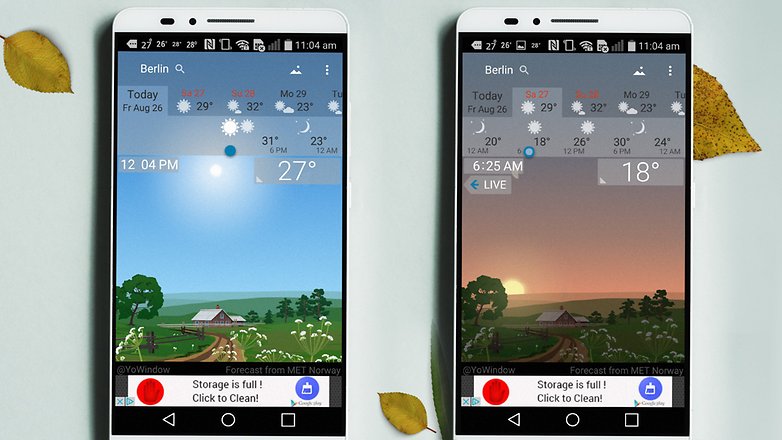 Simple Weather: best for Material Design
This app's design is as clear and simple as a spring morning. It abides flawlessly by Google's Material Design, making it a great choice for anyone who likes their device to be as homogenous as possible.
It could be said to be a little too simple, as it does lack many of the more advanced features and information that some of the other apps we've tried out here, but if you're just looking for a beautiful Material Design weather app that can tell you the essentials, Simple Weather is a great way to.
For my money, it also has some of the best weather widgets available. They look great on pretty much any device's homescreen.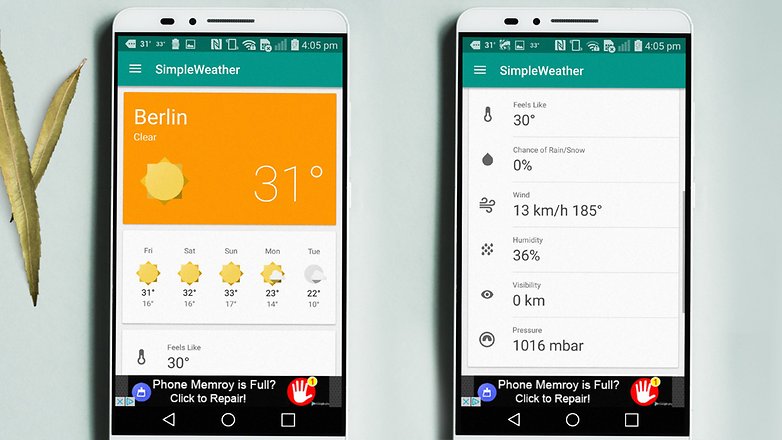 Morecast: most intuitive design
Morecast sells itself with its great-looking and intuitive interface: its vertical list layout is easy to use and interpret. At the top, you're greeted with the current weather and the 'real feel'. Scroll down and you'll see a more detailed view of the day's weather.
Another swipe and Morecast will reveal what's happening tomorrow; down again and you're presented with a simple seven-day view. This streamlined UI is good for beginners and experienced weather app users alike, because it provides access to all of the information you could need, but doesn't throw it all at you on one screen.
Morecast is full of small details, such as webcams that show the weather at different times of the day across the globe, and a weather navigation feature to help you plan routes around the best conditions.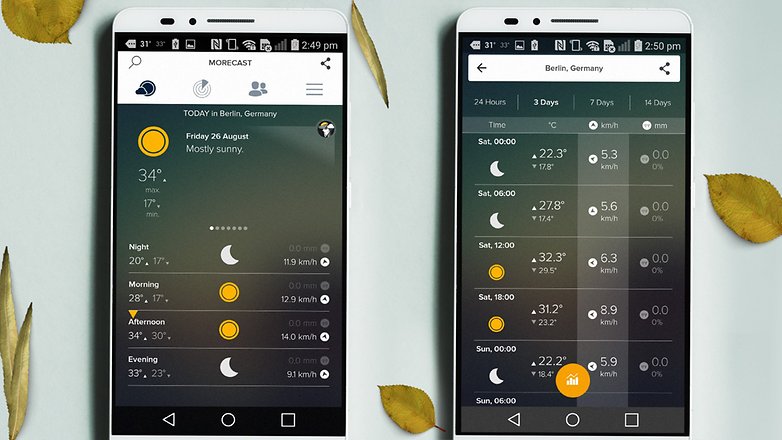 WeatherBug: best for extra features
WeatherBug excels in the design and user interface department, plus it is able to pinpoint the weather forecast, not only to your city, but to your neighborhood. In addition to forecasts and severe weather warnings, the developers have incorporated a traffic camera section to avoid jams and the ability to share photos and albums.
You can customize it to your lifestyle, so you can find out, for example, if you can run to the gym on a specific day, as well as personalize your home screen, language, and save multiple locations.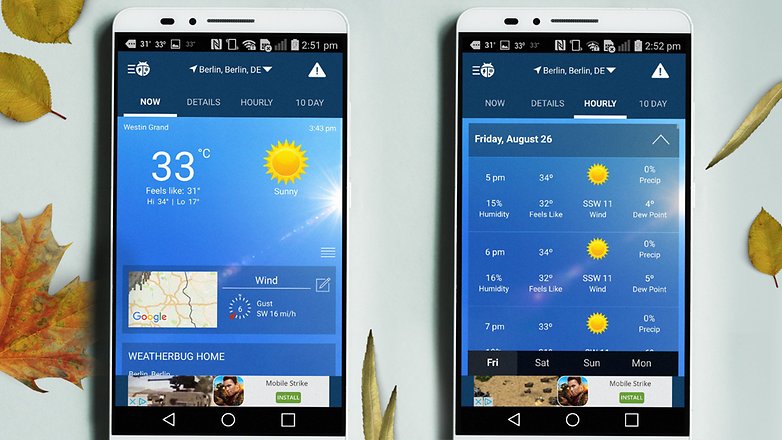 Weather Underground: best for getting involved
Weather Underground employs the combined services of more than 33,000 weather stations to offer "the world's most accurate hyper-local weather forecasts" from a widespread weather community.
This is said to produce a more personalized experience, tailored to your real-time location; users can even give updates on the weather in their area. The interface is highly detailed and shows everything you could ask for, on one convenient and useful page.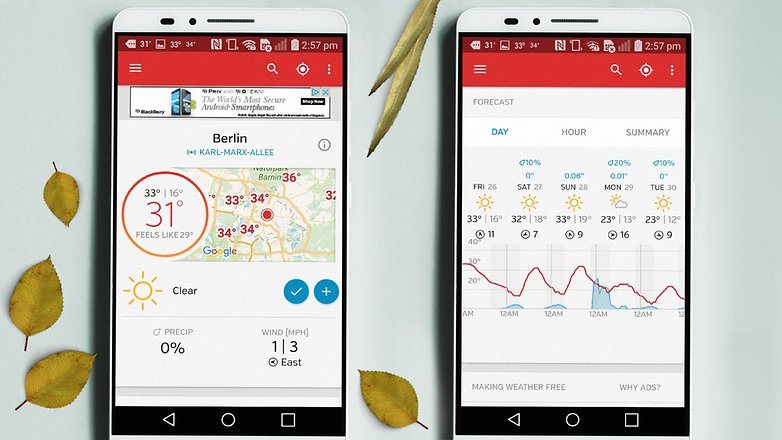 The Weather Channel: best for world weather news
The Weather Channel is the go-to weather app for many Android users, with up-to-date and accurate weather information. It includes hourly, 36-hour and 10-day forecast options, as well as the usual gamut of weather conditions like wind speed, humidity, UV index, visibility, dew point and pressure. It also has a slick interface, with a weather-related videos section that features clips from around the world.
It's simple and intuitive to use. It doesn't contain all of the necessary info on a single page like some other apps do, but you do get extras such as ski conditions, flu and pollen data. (You also can tap on most items to receive more detailed information.) It's one of the best weather apps for Android.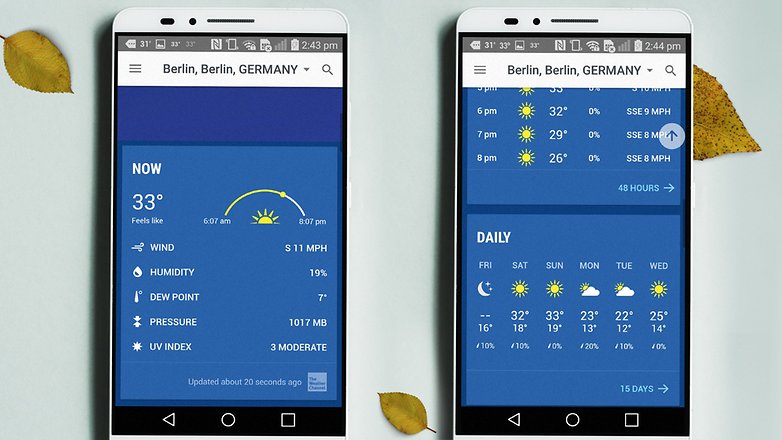 Accuweather: best for serious weather addicts
Accuweather is one of the staple weather apps on Android. It's usually accurate and is filled with great information, including the awesome RealFeel index (which suggests what the outdoor temperature feels like, rather than where the mercury stops).
Accuweather comes loaded with graphs, maps, radar and even video weather forecasts for your region. It's a comprehensive app, but some might be put off by its layout – it's not the easiest app to navigate.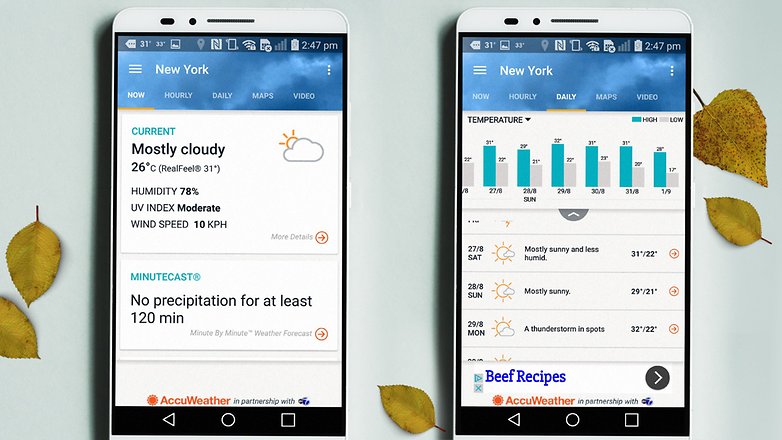 Yahoo Weather: best for ease of use
Yahoo Weather offers tons of information without ever feeling cluttered, and features ever-changing backgrounds from Flickr, so it always feels fresh.
There are many sizes and types of widget for your home screen, and you'll often get notifications in your status bar. It has everything an average user would need without going overboard on professional features. The one thing that could be improved is location precision.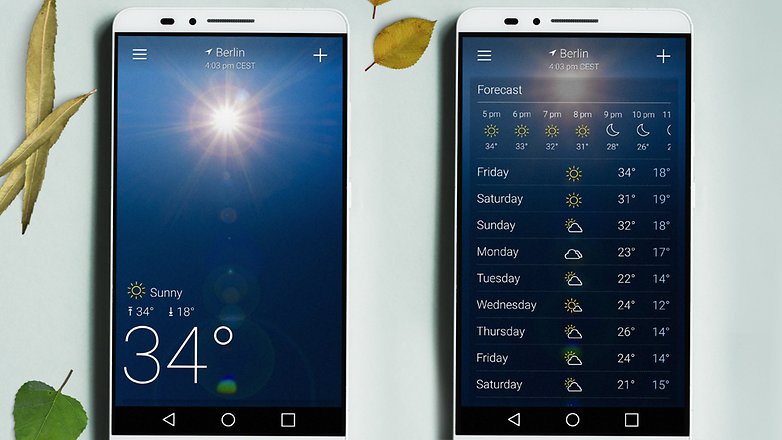 Weather Radar and Alerts: best for emergency weather updates
If you live or are traveling in a region that is often affected by severe weather, we recommend you check out Weather Radar and Alerts from NOAA. This app delivers the latest news straight from the National Oceanic and Atmospheric Administration to provide the most critical information on mainland storms, cyclones, tornadoes and other severe weather.
Weather Radar and Alerts offers real-time satellite views of key areas and a news feed, in addition to comprehensive marine updates. You can also head straight to the Severe Weather Outlook section for a daily glance at what's going on. For those who might be affected by extreme weather, this app could be vital.